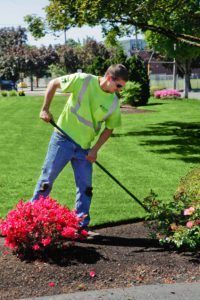 There are only so many hours in the day, and sometimes keeping your yard and garden landscaped doesn't happen. At Oregon GreenThumb Landscape Maintenance we offer weekly and monthly landscaping services, as well as one time and seasonal services depending on your landscaping needs.
All of our employees are trained to the same high standards, and serve our mission to provide quality, custom landscape maintenance to our clients.
Take a look at our On Going Services, One Time Services, and Seasonal Services.
Green Solutions
If you are looking for environmentally friendly solutions to your landscaping needs we can help! Here are a few additional green services we offer:
Sweeping and raking of leaves and debris (to prevent clogged drains)
Non-Chemical Weed Killer
Organic Fertilizers
Pet Friendly Solutions